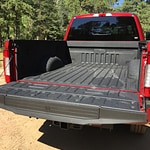 The Ford Super Duty is the pickup preferred by owners who need a tough, durable truck to get the job done. The newest models are equipped with a variety of features designed specifically for productivity, power, and performance.
The F-250 and F-350 base models have a 6.2-liter, eight-cylinder engine that generates up to 385 horsepower. The engine is paired with a six-speed transmission and rear-wheel drive. More powerful options include a 7.3-liter, eight-cylinder engine that delivers up to 430 horsepower. A 6.7-liter, eight-cylinder diesel version gets up to 475 horsepower. The larger engines come with a 10-speed automatic transmission. New owners may also opt for 4WD.
The towing ability of the Ford Super Duty depends on the configuration of the pickup and the size of the engine. But, the most powerful of the series capably haul up to 24,200 pounds or 37,000 pounds with a gooseneck.